SMART AUTO DETAIL SYSTEM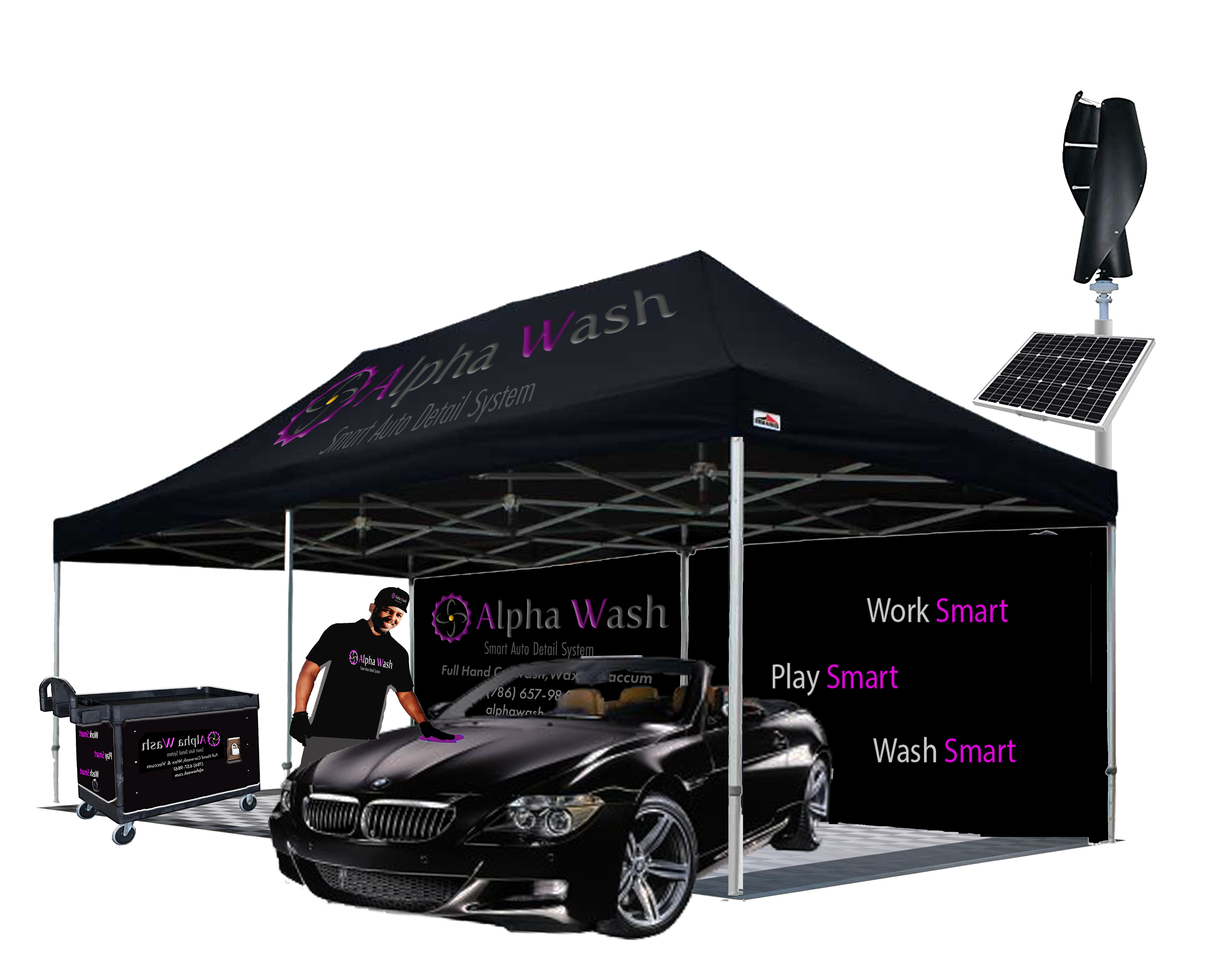 AlphaWash Smart Detail System, started with the sole purpose of creating a safe, efficient, and sustainable way of cleaning cars. Over the years, we have committed to researching and obtaining the best methods, products, and tools. As a result, we developed a "Smart Detail System" that allows for detailing cars using 100% biodegradable eco-friendly products and no water. Therefore, there is no need for loud pressure washers, leaky hoses, and dirty buckets.
CLEANING THE PLANET ONE CAR AT A TIME!

The mission of AlphaWash is to create a product that will contribute to a sustainable world that future generations can enjoy. We accomplish this by
Reducing water consumption by using 100% biodegradable eco-friendly products,
Contributing to the reduction of our carbon footprint by using zero gas-powered equipment and vehicles,
Reducing noise pollution by using equipment that produces less than 70 -decibels of sound.
Reducing energy consumption by exploring alternative power sources.
We value people. As a result, our vision includes a desire to provide jobs and business opportunities for individuals from all walks of life. We offer training and tools that ensure their success. We aim to deliver excellent customer service and exceptionally clean vehicles to our clients 100% of the time.
Frequently Asked Questions
HOW CAN YOU WASH A CAR WITHOUT WATER?
AlphaWash Smart Detail System uses solutions comprised of polymers and surfactants designed to protect your car by lifting and encapsulating surface dirt and grime. It is wiped away using plush microfiber towels. Because no water is needed in our waterless car wash services; no water is ever used, so there is no mess or toxic run-off.
WON'T WATERLESS CAR WASHING SCRATCH YOUR CAR?
Our method will NOT scratch your car. The innovative formula breaks down, encapsulates, and lifts dirt & grime from the surface of your vehicle. AlphaWash Smart Detail System's hand-washing technique, using plush microfiber towels to wipe away the dirt and buff out the polymers, gives the surface a wax-like finish.
WHAT MAKES ALPHAWASH SMART DETAIL SYSTEM ECO-FRIENDLY?
We only use premium-grade exterior & interior cleaners, conditioners, and protectants that are earth-friendly, non-toxic, and biodegradable, which means they're safe for the driver, passengers, and the environment. "Waterless Washing" prevents hazardous chemicals from entering the ecosystem and causing damage to the environment.
WHAT INGREDIENTS ARE IN ALPHAWASH SMART DETAIL SYSTEM'S SOLUTIONS?
Our premium-grade formulas are chemical-free. They have been derived from a variety of natural resources such as palm, coconut, corn, and soybean. No silicone, ammonia, or petroleum will be found in any of our products.
HOW LONG DOES IT TAKE TO CLEAN A CAR?
It takes anywhere from 45 minutes to 3 hours, depending upon the size of your vehicle, the service selection(s) as well as the amount of dirt and debris. The level of the exterior and interior dirt, as well as additional requests, will be factored into the time, product, and price consideration.
HOW DIRTY IS EXTREMELY DIRTY FOR A WATERLESS WASH?
With AlphaWash System there is no such thing as too dirty. While our Sanitation stations are not equipped to deal with heavy debris accumulation from off-road activity, mud, clay, granules, heavy salt spray, heavy tar, and tree sap, we will refer clients to our nearest auto spa which will use high-pressured steamers and other waterless techniques to remove heavy contaminants.
DOES THE ALPHAWASH SMART DETAIL SYSTEM EVER USE WATER?
No water, no pressure washer, no hose, no bucket, runoff.
HOW IS WASHING MY CAR BAD FOR THE ENVIRONMENT
Every time you wash your car you use 50 to 150 gallons of water which is a very important resource and is vital to human sustenance. There are a lot of iron and minerals in water that are good for us, but when you wash your car these minerals and chlorine create a highly corrosive chemical reaction, when mixed with the chemicals used in traditional car wash methods, breaks down your paint. The result is over 100 gallons of toxic waste going back into our ecosystem.
ISN'T IT BETTER TO JUST GO THROUGH A CAR WASH?
Car washes use harsh chemicals that enter and contaminate our ecosystem. Some reclaim or recycle their water, which can dull and contaminate your paint's surface with impurities. Over time, the continued use of this method will leave a buildup of impurities, dulling the shine of your vehicle. Automated car wash tunnels use abrasive brushes, cloths, and materials that can damage your paint. Some touchless car washes use uncontrollably high pressure that can strip the trim and molding off of your car, or drive the dirt into your car's paint with extreme high-pressure. With AlphaWash Smart Detail System, every vehicle gets the TLC treatment. The dirt is safely removed from your paint using similar treatments as you would receive at your favorite spa, this is why we can confidently be called an AutoSpa.
WHAT MAKES THE ALPHAWASH SMART DETAIL SYSTEM THE BETTER CHOICE?
We at AlphaWash Smart Detail System are passionate about customer satisfaction. We are passionate about cars and making them look their best. We are passionate about conserving our ecosystem and we are determined to preserve our environment one car at a time.
CAN I HAVE MY CAR WASHED WHILE I'M AT WORK OR HOME?
Yes, AlphaWash Smart Detail System will visit you at your office or home, or anywhere else in the areas we serve.


DO I NEED TO BE WITH MY VEHICLE WHILE IT'S BEING WASHED?
No! Time is important so our service is designed around convenience so you can spend your time doing more important or fun things.
HOW DO I BOOK AN APPOINTMENT?
You can book online or by calling us directly at( 786) 657-9861. To book your appointment online, please go to the Booking page, where all available services and details are listed. You will be prompted through the booking process. Once you book an appointment you will receive a text or email confirmation. Payment will be processed upon completion of service.
HOW MANY DAYS' NOTICE IS REQUIRED TO SCHEDULE AN APPOINTMENT?
You may book an appointment online at least 1 hour before the next available time slot in your area. You can also book an appointment up to 6 months ahead. Online booking access is available to you 24/7 via the Booking page.
CAN I UPGRADE AT THE TIME OF SCHEDULED SERVICE?
Service upgrades or additions will depend on time availability to accommodate any service expansion(s).Any price adjustments will be made at this time as well.

CAN YOU WASH MY VEHICLE WEEKLY, BI-MONTHLY, OR MONTHLY?
Yes, AlphaWash Smart Detail System can set up a recurring schedule plan that will consistently keep your vehicle clean, and at its optimal best.